Juniors/Seniors week 10
Trainers
Sensei Mark |
( Sempai ) Adrian Reddish |
(Sempai) Andrew Eastley |
(Sempai) Jessey Guevara |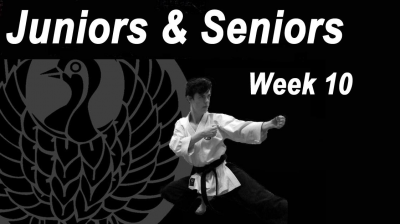 Welcome to our online training service for term 2.
Please Note: even though you can now view courses with a mobile phone, we recommend you view the courses on an Ipad / tablet of larger device to see the course content (including videos).
It is important to maintain your proficiency while we are in social distancing restrictions. In addition, this course will be accredited and count towards the December grading.
Please note: there will be no fees for our members
Course Information
Term 2 Objectives
Our course Objectives are simple:
To maintain proficiency while Australians are in Social Isolation.

To maintain your training and to achieve the required accreditation to be able to grade in December.
Week 10
All training will be done online with a weekly assignment which must be completed by the end of the following week. For example, Week 10 karate assignment would need to be completed by the end of week 10. We will indicate the date the assignments are to be completed.
Week 10 Lesson Plan
The course is split up into Nine (9) broad areas:
Bow

Warm Ups

Core Strength Exercises

Karate Basics - Static

Karate Basics - Moving

Reflex Drills – Partner/single

Sparring - both for single or partner

General Kata - for grades

Student Assignment
Coaches
( Sempai ) Adrian Reddish